As leaders in facilities management, developing an effective workforce is critical to the success of our organizations. This chapter is written from a top-level leadership perspective but can be scaled to any size work group in facilities management. What it takes to attract, retain, motivate, and direct people is critical to developing your workforce and can be done at any level. Whether you are the new plumbing shop supervisor or the new or seasoned vice president/chancellor of facilities management, there are several key human resource factors that you have to get right in order to build an effective workforce.
The scope of facilities management responsibilities is vast. From operational services to planning, design and construction, we have to be sure that our workforce knows what to do, how to do it, and how to execute for desired results. To ensure their employees are operating at full efficiency and are following the directions they need to be successful, leaders must put a lot of thought into how they harness the power of people to be effective.
Successfully executing the concepts in this chapter will create a high-performance work team made up of the right people—people who are plugged in and not on "autopilot." Effective talent management creates employees who are energized and believe in their organization's mission and vision, uphold its values, and work to successfully fulfill their roles. Employee engagement produces tangible returns on investment in organizations. "Employees who are engaged in their work and committed to their organizations give companies crucial competitive advantages—including higher productivity and lower employee turnover" (Vance, 2006).
This chapter focuses on the basic concepts of effective talent management. The components of an effective workforce are intertwined, from creating the environment for success (your organizational culture), to getting the right people in the right place, to ensuring that employees are fully engaged in their work. An effective talent management system will align employees in a solid organization that can do the work that needs to be done today, while creating systems that allow the organization to change, adapt, and adjust for the future.
The foundation of any successful organization is its culture. "Culture guides and constrains the behavior of members of a group through the shared norms that are held in that group" (Schein, 2010). A good leader must assess the current culture and begin a cultural transition that best supports the organization's mission, vision, values, and strategy. Facilities management departments are rich in history, tradition, policies, processes—and people—that allow us to build upon well-defined concepts of culture. The key is ensuring that leaders are developing that culture in a manner consistent with where the organization is today and where it wants and needs to go.
What is culture and why is it important? According to Wendy Bliss, founder and principal of Bliss and Associates:
The key to running a successful organization is to have a culture based on a strongly held and widely shared set of beliefs that are appropriately supported by strategy and structure. When an organization has a strong culture, three things happen:
1. Employees know how top management wants them to respond to any situation;
2. Employees believe that the expected response is the proper one; and
3. Employees know that they will be rewarded for demonstrating the organization's values. (Bliss, 2012)
Determining your organization's culture and the management styles within that culture will require thoughtful self-examination. The leadership team needs to review and rethink all organizational beliefs and practices and decide what the organization's mission is, where it is going, what is currently working, and what is not working. In this process, you will find that the leadership team contributes a combination of leadership principles and practices and that these will need to be blended and refined to come up with an approach that best fits your organization's needs.
An organization's culture comprises many factors that are reinforced through the daily interactions occurring within the workforce. In his chapter (Leadership, Part 1), William Daigneau states that the critical elements of leadership are setting a vision for your organization and establishing your values as a leader. To create an effective culture, a team must define who they are, what they do, why they do it, how they get the job done, and where they are going. These definitions create the environment in which a culture can develop and grow. These are your organization's mission, vision, values, and inititives.

Mission and Vision
For an organization to be successful, a mission and vision for the organization must be well-defined and communicated. "Who are we (what is our purpose) and where are we going?" are essential questions to answer in order to manage an organization effectively. Within a higher education environment, the facilities management mission and vision should be something that also dovetails into the overall mission and vision of the institution.
The mission statement defines the organization's main purpose or reason for being. It should clearly and simply state what the organization does. Jack Hug, a facilities management professional and president of Hug Consulting and Management Services, asks his clients, "What in the world are we here for?" The vision statement is a longer-term idea of where the leadership team wants to take the organization. It should paint an accurate and desirable picture that people can identify with. Kristin Arnold, president and founder of the consulting firm Extraordinary Team, believes that "a well-crafted vision paints the picture of the preferred future and can energize a team to move forward in a unified direction. It should excite and inspire the team so all team actions can support the expressed vision" (Arnold, 1999). (See BOK Chapter, Leadership, by William Daigneau, for tools to create effective mission and vision statements).
Values
An example of strong value statements can be found in a recruitment campaign designed by the state of Alabama to attract an emerging workforce into the trades industries. As part of its Go Build Alabama campaign, the state created the Future Skilled Workers of America (FSWA), an organization for youth similar to the Future Farmers of America. The FSWA has a very strong creed that captures the shared values of the team:
I Believe—that my future will not be written by a diploma, but by my own degree of skill and commitment. Because accomplishment is not bestowed, it is earned. And I will work for everything that I gain.
I Believe—the only thing better than a good day's work is the next day's.
I Believe—that my strength lies not only in my body, but in my spirit, in my passion, and my dedication to a job well done. The only thing that could ever stand in my way is me.
I Believe—that not everyone can do my job.
I Believe—there's nothing I can't accomplish with my own two hands. With them, I will contribute to society's progress and provide for my family's wellbeing. They don't just operate tools, they are tools. They are the keys to my livelihood, and catalysts for change. (Go Build Alabama, 2014)
Powerful statements like these help form a group under a common set of values. Clearly stating who we are, how we behave, and what we value creates a sense of community and a sense of belonging. It helps people understand why they do what they do and why they are valued. When they share a value system, they can know who they are and who they are not. It also allows them to identify with others in the organization. Creating an identity helps bring a team together and provides them with a sense of purpose.
Although they look impressive on a piece of paper, your organization's core values must reside within your employees—and so they must be genuinely held by your leadership team and resonate with the employees. Thus, it is critical that organizational values development be done collaboratively at the management level. The leadership team must work together to identify the values that guide the organization.
If your institution is rich in history and tradition, values systems will already be in place. What you already have can be the building blocks for your values assessment. When that assessment is done, you will need to involve your leaders to refine it and make a living document that can guide your culture and your employees. As with any construction or renovation project, some demolition must usually occur to create room for improvements. This careful demolition needs to be part of the implementation plan.
Creating value statements begins with personal reflection. Leadership must guide the team through a reflection process asking, "What do I value?" In this reflection, values do not need to be framed within a workplace setting. As the collective values statements are integrated, the values can be tailored to fit the work environment. Below is a chart of commonly held values.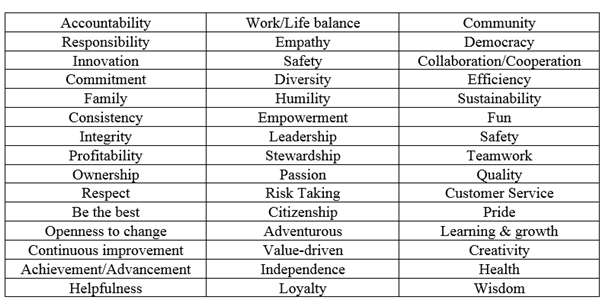 The list above can be used to start a dialogue within the leadership team about the organization's values. The team will need to ask themselves:
What do you personally value? What do those values mean to you at work? How do those values impact how you see the team?
What are the current value statements? How do they compare to the values of the current team? Are the values still true for this leadership team or do some of them need to be changed/deleted/modified? What needs to be added?
The purpose of values is to provide employees with an understanding of why the organization does what it does. At an APPA conference, I was in a discussion with an APPA thought leader, Joe Whitefield, assistant vice president of facilities services at Middle Tennessee State University. He relayed a personal lesson he teaches his children about values and integrity that he also shares with his employees. As his children get older and are faced with choices out in the world he tells them, "If you know who you are, you will know what to do" (Greer, 2012). Closely held values provide that direction. If you know what you value, then you will know which path is the right path for you. Applied to employees, this means if they know why the organization behaves the way it behaves and what it values, then they will know how the organization expects them to perform when faced with a decision.
Communicate the Culture
Once the organization's vision, mission, and values statements are developed, it is important to communicate them effectively to create ownership. Develop a consistent look for your documents, develop formal and informal training programs, and implement recognition and rewards programs that support your culture-building efforts. Although it is true that these statements can't just reside on paper and must be internalized by your employees, it will be worth it to create high-quality documents that are visible throughout the workplace and to invest in training that indoctrinates employees into the culture. Delivering Happiness, a company that specializes in building rewarding cultures, created the following document to communicate their values: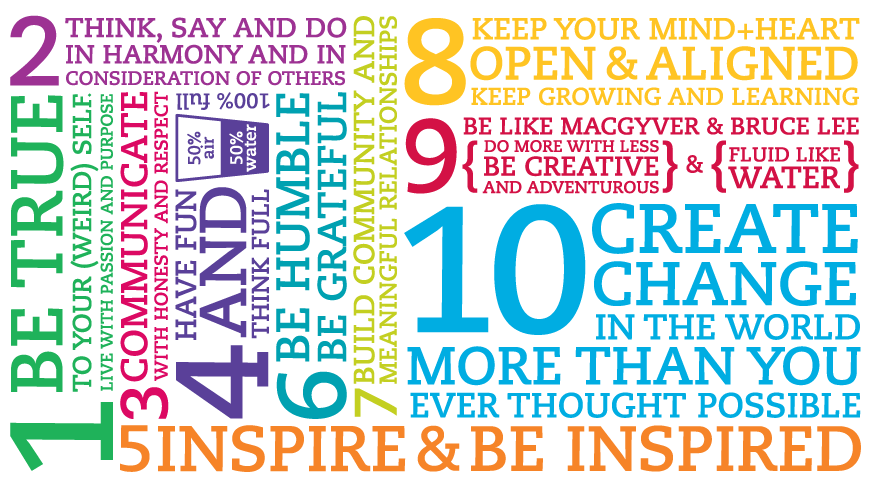 Used with permission from Delivering Happiness
Training should be regular and should come through formal and informal channels. Formal training for new employees should cover in-depth what the vision, mission, and values are and what they look like when applied on the job. The training itself should model the values that you are teaching. If you value fun, the training session should be fun! If you value efficiency, the training session should be well-presented, thorough, and quick. Formal refresher training (at least annually) should review the material and give examples of your values at work as told through personal success stories of peers. Informal training should come regularly in a variety of settings, from a weekly team meeting to a one-on-one interaction with employees. It should reinforce and reward employees for the times when they have upheld the culture and should coach and encourage them when they need to better emulate the culture.
Storytelling is a great way to create cultural learning opportunities. Just as families sit around the dinner table and laugh at the stories that make them a family, managers should tell stories that illustrate the organization's values, sharing stories of their own cultural experiences and allowing others to tell their stories as well. Managers that observe an employee displaying a particular organizational value at work should praise them for it immediately and then ask them to share their story at the next team meeting. In addition to reinforcing the culture, storytelling creates inclusion and allows the people taking part in the storytelling to feel that they are a member of the team.
Reward and recognition programs should be tied to the organization's mission, vision, and values, acknowledging employee performance that exemplifies them. From daily interactions to annual performance appraisals, employees should receive feedback on how they are performing with respect to overall goals and organizational culture.
Traditions
Just as family traditions reinforce one's sense of belonging within a family unit, building traditions into our workforces reinforces the values that organizations hold. In addition to reinforcing what the organization stands for, good traditions also invite inclusion into the group. They create camaraderie amongst peers, solidify bonds within the team, improve communication and trust, and help increase the fun level at work.
Again, traditions should reinforce the values held by the organization and should be inclusive. So, if the value of the Carpentry Shop is to treat coworkers like family, a tradition could be that a new Fisher Price tool belt is purchased for each new baby or grandbaby born to a group member. Each team member could contribute to the gift. If innovation and ingenuity are values, then perhaps an annual award could be presented for the most innovative solution identified that year within the shop. Each team member could nominate a peer for the award with all team members voting for the winner. Traditions can be very simple or very complex. The key to building solid traditions within a workforce is to be willing to try new ideas, hold onto what works (and discard what doesn't), then repeat successful ideas with some frequency.
The magic of creating a great culture occurs when all of the components we have discussed come together and start working. A group of people pointed in the right direction with a common purpose and a passion for what they do generate their own momentum. As you work to develop the corporate culture for your organization, watch for moments where everything comes together and you can feel the synergy. Some will be big moments, but more often than not, you will see the spark in an action or activity in a team. Encourage those sparks. In my experience, sometimes the unintended byproduct of all of the hard work that goes into creating the culture can become the premier example of the culture itself (and then an opportunity to create a new tradition).
This magic can also be the catalyst for great transformation. As the people you surround yourself with begin to feel the power of the team that you are creating, and all start heading down the same path with a shared sense of purpose, pride, and passion, great changes will occur. As you manage the workforce and move staff through the ever-changing waters of higher education, you need to reinforce the organization's values, internalize its mission, and follow the vision that you have worked so hard to create and in which the workforce believes. Innovation, creativity, and change can all occur as long as they continue to be in line with your mission, vision, and values. A leader's job is to help employees understand how change will impact them but still support the culture they have joined.
Process/Practices
"Whether or not a culture is good or bad, functionally effective, or not, depends not on the culture alone but on the relationship of the culture to the environment in which it exists" (Schein, 2010).
Creating a culture is critical, but if our actions do not match our words, then we undermine ourselves. Our processes and practices must align with our mission, vision, and values. John Wooden, one of America's most respected basketball coaches, was known for his inspirational lessons. When speaking on leadership, he said, "The most powerful leadership tool you have is your own personal example." This is especially true when creating an effective team. The most powerful way to strengthen culture and create an effective workforce is to ensure that day-to-day processes are consistent and reinforce the desired image and culture. Actions speak louder than words. The team's perception of the organization's values comes not only from listening to the values during training, but also from watching those values being executed by the leadership team.
From performance appraisal forms to customer communication, leadership's actions either support or undermine the organization's stated values. For example, if we value communication and relationship building within the team, our performance appraisal system should be a collaborative review that solicits feedback from the employee and supervisor (and perhaps includes a peer review) rather than a numerical/forced ranking system conducted by the supervisor and signed off on by the employee. If our value is safety, we want to create an environment—with the proper training and rewards systems in place—that encourages employees to work a little longer to ensure safety instead of rushing to meet a deadline. Values need to influence how processes are executed.
As you develop your organization's culture, you will want to review all of your processes and policies and ensure that you are who you say you are. A good way to check this is by using the "say/do ratio." Simply put, the say/do ratio asks if your behavior aligns with who you say you are. The ratio can be calculated as follows: what you say/what you do = say/do ratio. Ideally, you will want your organization's say/do ratio to be 1:1. Review your processes and ensure that they align with your values, that your team is following these processes, and that your employees can easily see your values working within your organization and lived by your leadership. As you work to refine your mission, vision, and values, or any time you modify them, review your processes again to ensure alignment.
Right People on the Bus
"The old adage, 'People are your most important asset' is wrong. People are not your most important asset. The right people are" (Collins, 2001).
Hiring and developing quality employees is the key to the success of an organization. This cannot be stressed enough: Find the right people to work with you and then—just as important—place them in the right role. In his book Good to Great, Jim Collins emphasizes that it is critical to get the right people in the right places on your team (and subsequently, get the wrong people out of the organization). In researching organizations that moved from good to great, Collins found that before even determining the vision for the organization, the leader looked first at who was on the team and what they were capable of accomplishing. "If we get the right people on the bus, the right people in the right seats, and the wrong people off the bus, then we'll figure out how to take it someplace great." (Collins, 2001).
Collins stresses the importance of building the right team before determining where the team is going. This is not a new concept in leadership models, but was a key component among the companies he researched as great employers. (Recall from earlier in the chapter that determining values should be a shared/group review that builds consensus among the team.) Because new facilities management leaders rarely get to build a team from scratch, it is important to identify who is on the team, what roles are available, and then, as much as possible, align the right people with the right roles. Collins points out that the right fit often does not involve technical know-how, but that the right person is someone with the right character traits and innate abilities for the team.
Although getting the right people "on the bus" is critical to building an effective workforce, getting the wrong people off is a step that should not be overlooked. Having the wrong person on the team, or the right person in the wrong place, can be detrimental to the organization. Ideally there is a position on the team that would be a better fit for that employee. Moving someone into the right position may create short-term discomfort, but the increases in productivity and improvement in attitude that result for the team and the employee in question will make up for it in the long run.
But sometimes finding a new position for that person isn't possible. If someone doesn't have a productive place in an organization or an attitude that enables them to be retrained, then a leader needs to let that employee go for the health of the organization. Although this is one of the hardest tasks for a leader, keeping the wrong person on your team does much more harm than good. As the old adage reminds us, "A bad apple can spoil the bunch," and negative attitudes can be contagious. Good employees are frustrated by their underperforming peers, and employees will look up to leaders who can make the tough decisions and are committed to doing what it takes to make a great team.
As I know from my experience in higher education, getting the right people on the team and the wrong people off can take a long time. As a leader, it will be your responsibility to make sure you know what roles are available (see the "Workforce Planning" section) and who your ideal candidate would be to fill them. But expect that it may take a while to fill those roles. Plan to either grow the candidate from within or look externally as funds or vacancies become available. Also, practice due diligence in getting the underperformers off your team to make way for the right people. Remember that early performance assessment mechanisms can be as important as hiring mechanisms. There is no perfect hiring method; everyone makes hiring mistakes. You can only know for certain about a person by working with them.
Workforce Planning
In building an effective workforce, a leader must select candidates who will thrive as well as enhance the organizational culture. With every new hire, organizations need to look at what the current needs for the organization are and what the future needs of the organization will be. Leaders need to look at the big picture on a regular basis and create a plan for future staffing. This alignment of business needs and direction with the people in the organization is called workforce planning.
Workforce planning starts with the big picture and then fills in the details. Here the organization's mission, vision, and values, its corporate culture, and an understanding of roles, responsibilities, and accountability all come into play. Leaders must ask, "Do we have the human capital we need to go where we want to go?" The answer to this question requires them to understand current workforce capabilities and match those to its short-term and long-term organizational goals. Leadership must simultaneously approach workforce planning from a technical standpoint and a cultural standpoint. What are the technical skills the workforce needs and what are the cultural fit characteristics important to build and maintain the desired organizational culture? Important questions include:
What are the technical skills sets of current team members?
Who are the generalists?
What specialties are needed and who are the specialists?
What are the personality traits/characteristics that need to be highlighted in each role?
What are the personality traits/characteristics of current staff?
The next phase in workforce planning is to identify gaps in current and future capabilities. Leaders can identify current workforce gaps by asking:
What technical skills are currently needed, but not present?
What personality traits/people characteristics are currently needed, but not present?
In addition to reviewing current business trends and needs, leaders need to anticipate future needs as well. Keep in mind key issues such as how technology developments will change the way we do business, or how process improvements such as changing delivery methods for classroom instruction will change our operating methods. As you review the needs of the department and compare them to current capabilities, you should develop a list of staffing and/or ability gaps in the workforce that need to be addressed as vacancies are created or additional funding becomes available. Again, it is important to think about these needs both technically and culturally.
Once you know what capabilities you have and what you will need to reach your goals, you will need to look at your current workforce in relation to labor market statistics. Key items to consider are:
Will there be changes in demand for the workforce (an increase or decrease in projected demand? Can your workforce handle the anticipated work volume? )
What is your average annual turnover?
What is the projected retirement rate for your organization? (Because these are numbers that can easily be projected, it is ideal to also tie the capabilities of the incumbent workers to this data collection and review. Look at retirement potential over the next five to ten years and what skills/capabilities will be leaving when the incumbents retire.)
How long does it take to recruit for open positions?
Are there gaps between your need for employees and the availability of employees? (Can the current labor pool support your hiring needs in the next ten years?)
The last step in workforce planning is to analyze the data and develop a plan to address future needs. In the workforce plan, gaps in current capabilities need to be identified along with gaps in the ability to effectively and efficiently fill projected vacancies. The workforce plan will need to identify solutions to closing the identified gaps. Gaps can be closed through succession planning, professional development training programs for existing and new employees, and hiring.
Succession Planning
Succession planning identifies future leaders or key position holders within the existing workforce and then works to provide those people with opportunities to develop the skill sets needed for future projected roles.
A good way to view succession planning is to think of "clock building, not time telling" (Collins and Porras, 1994). Leaders must look to the future leadership of their organization and build a "clock" that can "tell time" in the future in addition to ensuring that the organization can effectively tell time today. "Having a great idea or being a charismatic visionary leader is 'time telling'; building a company that can prosper far beyond the presence of any single leader and through multiple product life cycles is 'clock building.'" (Collins and Porras, 1994).
Succession planning allows organizations to identify key roles and then create a plan to fill those roles with either the current workforce or external hires. This is often done through a regular review of the current workforce in which leaders identify workers with the potential to move into larger roles in the future. Those workers are then provided with opportunities to grow and develop. Opportunities may come in the form of additional training, special project assignments, mentoring relationships, job rotations, apprenticeships, or a combination of several different development approaches.
Although identifying incumbents with leadership or key position potential can be a successful strategy, there are some positions that are best filled with an external candidate. There are times when a department will be best served by bringing in a new leader or key team member to grow their strengths/abilities/knowledge base in a way that would not have been possible with internal training or when no internal candidate could be identified. In these instances, networking within the industry will allow you to have a candidate pool to draw from when the time comes.
Hire Right!
One of the most important roles that a supervisor performs is hiring. Facilities employees often have very low turnover and very long tenure, so the candidates selected will be on your team for the long haul. It is imperative that hiring managers plan for the future with every hire and that they focus on hiring the right person for the position. When hiring, a supervisor needs to be looking at two components: technical ability and job fit. The workforce planning tools discussed previously will allow the department to identify the technical needs for the team, while the values exercises will help identify those personality characteristics that are important to focus on in finding the best person.
When training new supervisors on the hiring process at the University of Arizona, we teach them the steps in the process by using the analogy of a fishing trip:
What are your fishing for? Every opportunity to bring on a new person is an opportunity to review the workforce planning tool that has been developed and look at the succession plan. Is the vacancy an opportunity to reorganize to allow an incumbent employee an opportunity for growth? Is the vacancy an opportunity to bring on a new person to train for a future need? Do you need a technical expert? A generalist? A senior-level employee or a newly trained technician with a great attitude? Ocean fishing is different from stream fishing, so the tackle and bait you would use is very different. The same is true in hiring. It is important to thoroughly review your immediate and future needs to plan how to recruit the person you want.
Think Bait! The job posting is like a fishing lure. You have to craft the posting to attract the candidate you want. A good job posting should be a well-written description of the expectations for the position along with the minimum and preferred qualifications needed. It should also advertise the culture of the organization and accurately describe the type of candidates you will consider for your team. Remember that you are hiring for technical and cultural fit. The job posting should accurately describe the expectations for both.
Where will you cast your net? If you were planning a fishing trip for salmon, you would research the ideal location and time of year to go on your trip. When it comes to advertising your position, the same is true. You need to research where to advertise—where to cast your net to ensure you find the right candidate.
Tackle—the tools you need to catch the best. Applicants must be screened to ensure they meet the qualifications needed to fulfill the workforce plan. The hiring process should build in a screening procedure to ensure that all applicants meet the minimum qualifications for the position. When fishing, you plan the tackle that will allow you to have the right weights, lines, and hooks to reel in the best fish. The same is true with your screening process. Whatever tool you use, whether it is a group review with forced ranking or a numerical matrix evaluation, the goal is to have the best candidates rise to the surface.
Throw back or keep? Your interview process is when you determine if you want to hire the candidate or if you are going to keep looking. While all of these steps are important in the hiring process, the interview needs to be structured to determine if the candidate is the right fit for your organization. When hiring to transform your organization, it is important to include values in your interview process. Value-based hiring focuses the interview not just on the technical aspects of the job, but also on the cultural fit. A well-done hiring process will have included the desired values from the beginning. The job posting should paint a picture of the desired values, and the interview should determine if the candidate aligns with those values. For example, if your organization's top three values in are ingenuity, safety, and customer service, your interview would include questions similar to the following:
Describe a time when you had to come up with a creative solution for a problem that you encountered.
What are your practices related to job safety?
This job entails working with customers. Describe your experience working with and providing a service to customers.
How do you ensure good customer service?
The point of the interview is to get to know the person who has applied. You will want to confirm they have the technical knowledge demonstrated on their application materials, but you will also want to spend time getting to know the candidate. Have a conversation with them, let them ask you questions about the position, get to know them, and see if they are someone worth bringing on to the team.
In Good to Great, Collins noted that great companies were rigorous in the application of the people decisions they made. They consistently applied the following rule when hiring: "When in doubt, don't hire—keep looking" (Collins, 2001). As you add new people to your team, make sure they are the right people. It is critical that you know what you need first, then interview and make sure you are finding exactly that. Don't settle—new hires are the future of your workforce.
The final step in the hiring process is to check the candidates' references. Are they who they say they are? Assuming that all goes well, the hiring process can be completed and the new employee can be scheduled for their first day. Spend time planning the first day, week, and month to ensure that the employee receives the training required to do the job, has the materials needed, and is best prepared to fulfill the requirements of the position for which you hired them. This process, called on-boarding, helps to transition new people into your organization and is linked to their overall success and happiness in their new role.
Professional Development
"The growth and development of people is the highest calling of leadership."
Harvey S. Firestone,
Founder, Firestone Tires and Rubber Company
(Brainy Quote, 2014)
Professional development starts with understanding an employee's personal goals for their career. Supervisors need to understand where the employee wants to go in their career, and then work with that employee on what it will take to get there. It takes a strong leader and a lot of good dialogue to develop people. Ideally, the supervisor will create a development plan that can provide the training, experiences, coaching, and encouragement needed to successfully carry employees down the professional development path.
Dialogue
Professional development starts with a conversation. The dialogue needed to create a good professional development plan for an employee is critical. The "silent conductor" leadership model is a good example of this. When Benjamin Zandur, an orchestra conductor, shifted his style and started focusing on ensuring that the orchestra members understood what they were playing and were engaged in the song, their overall performance improved (Zandur and Zandur, 2000). The "silent conductor" is a great professional development approach for creating good dialogue. If the leader can focus on the employee's performance, ensuring that his/her employees understand what they are doing and are engaged in their work, then overall performance can improve. Leaders need to be developers of people, ensuring that they have the tools and training needed to fully execute the tasks given. Leaders need to be asking their employees what the employee needs from them in order to grow.
Zandur says that as he shifted into his silent conductor role, he began to leave pieces of paper out on every music stand at each rehearsal to solicit feedback from the musicians on how he could "empower them to play the music more beautifully." (Zandur and Zandur, 2000.) This created an open dialogue between the conductor and the musicians allowing for questions and clarifications on how the music was to be played, which greatly impacted the overall performance. Performers began to share ideas on how they liked to receive feedback and also commented on areas that they felt needed more musical direction. The players became active participants in the orchestra.
As you work with employees on a day-to-day basis, it is critical to lead in a way that allows your employees to become active participants in their own development. As in the silent conductor model, you need to create dialogue and solicit feedback from your employees. Supervisors need to create a safe environment for dialogue. Regular interactions with employees should include questions such as:
Do you have the tools that you need to be successful?
Do you understand the tasks that you have been given?
Do you feel as if you have the proper level of authority to execute the tasks that you have been given?
What can I do better to coach you?
What can I do better to assist you in getting your job done?
Is there anything you would change in how we are performing this task?
Once you have opened the dialogue and are listening to your employees, then you can begin to work with them to develop their career path. Perhaps annually, or more frequently, have a structured conversation about employees' future plans. Often, this can be done in conjunction with the annual review plan, but may need to happen more frequently depending on where the employees are in their professional journey. The professional development dialogue should be about the future of the employees. Where do they see themselves in one year? In five years? What do they feel are their strengths and opportunities for improvement? What training programs would they be interested in attending and why. Supervisors should also be prepared to provide feedback on where they feel the employee's strengths lie and where there are opportunities for improvement. After this conversation occurs, a development plan can be created.
A development plan is like a map to the future for your employee. The development plan simply states the end goal and the desired time frame in which the employee would like to achieve that goal. It is a clear, realistically achievable pathway. The development plan also details employee strengths, opportunities for improvement, training courses that the supervisor or employee feel would be useful for accomplishing the employee's goals, and milestones for achievement. A formalized development plan tool is shown in the chart below. This tool allows the supervisor and the employee to capture the employee's long-term goal, as well as the short-term goals to be completed to achieve the long-term goal, after which an action plan with prioritized action steps is created.
TOP
An engaged employee is someone who is passionate about what they do, feels that what they do matters to their organization, and feels that their values are shared with their organization. An engaged employee works more diligently, is more focused, and does the job correctly the first time. A disengaged employee is just going through the motions. Engaged employees are loyal to their organizations and are willing to go the extra mile, while disengaged employees have high turnover rates and higher absenteeism rates.
Researchers Gerard Seijts and Dan Crim have identified ten "C's" that can help leaders engage their employees (Seijts and Crim, 2006):
Furthermore, make sure to use the skills that employees have been working to develop. If you invest in an employee to get a particular license but do not assign them work that lets them use it, you are not allowing them to contribute as they could be. Similarly, if you employ a well-qualified journey worker or licensed contractor but have to oversee all their decisions, that employee will feel disengaged.
Creating the right culture allows employees to fully engage in the work they are doing. A clearly articulated vision, mission, and values statement frees them to do their best. Aligning roles and responsibilities and providing good processes allows them to fully understand the scope of the job and commit to it. Gaining employee commitment to the organization is an essential component of engagement. A committed, engaged employee will stay with the organization even if offered a comparable position with similar pay and benefits.
One of the ways organizations can measure employee engagement is through the use of surveys. Engagement surveys, also known as "climate surveys" or "employee satisfaction surveys," should be given no more than once a year but at least every five years—ideally they should occur every one to two years. Engagement surveys should allow for anonymity of the survey participants so that employees feel they can express their concerns freely. Survey findings should be evaluated to identify and carry out changes in any area that needs improvement. Several online engagement survey tools and service providers are available who not only analyze results but recommend change initiatives to correct deficiencies in engagement. Engagement surveys measure the employer–employee relationship and the employee's level of commitment by looking at several factors: the employee's attitude toward communication in the workplace, the importance and relevance of the employee's position, the level of investment they feel is being made toward their professional development, how they perceive the opportunities they have for advancement, and their perception of the organization's values.
We are constantly learning, improving, and changing, and the same is true for our organizations. You should conduct a regular review of your organization's culture, including an annual workforce planning session and succession planning strategies, to ensure that you are on track with your plan and are addressing any unforeseen issues.
We have discussed the importance of creating mission, vision, and values statements in collaboration with the leadership team. As the team changes or as business needs move the organization, you will need to review and revise these statements. They must be genuinely accepted and internalized by your teams, so they will need to be updated.
Companies have to be willing and able to evolve as they grow. "By nature, we want to protect and scale the things about our company we deem precious. But the reality of it makes about as much sense as pursuing the fountain of youth. As a leader your job is to understand and evolve your culture rather than cling to what is really just nostalgia" (Schuler, 2013). Periodic evaluation of mission, vision, and values statements are critical to that growth. As team members grow and develop, as business needs make new demands, and as new employees join the organization, this reevaluation is essential.
You will likely find that big changes are not needed, but that some statements need to be refreshed or changes made to your mission/vision to realign it with your institution. You may find that the overall concepts still work, but that you want to update the look of the documents and do some targeted retraining. Whatever you discover as you complete your review, remember to communicate any changes to employees, update your training, and ensure that your processes still align with your updates.
In the introduction we stated that "an effective talent management system will align employees in a solid organization that has the organizational capability to do the work that needs to be done today, while creating systems that will allow the organization to change, adapt, and adjust for the future." The truth is that creating an effective workforce does not simply happen, but requires hard work, calculated decisions, and belief in the organization's potential. It also requires vision and long-range planning that can be translated into manageable steps, and action plans that can be executed one item at a time. Using the concepts included in this chapter, examine your organizational culture as the foundation of your workforce development, start planning your talent management system at the "50,000 foot level," and then plan the steps it will take to reach those goals.
Arnold, K. J. (1999). Team Basics: Practical Strategies for Team Success. Hampton, VA: QPC Press.
Bliss, W. J. (2012, November 16). "Understanding and Developing Organizational Culture," Society for Human Resource Management. Retrieved April 15, 2014 from www.shrm.org
Collins, J. (2001). Good to Great. New York, NY: Collins.
Collins, J., and Porras, J. I. (1994). Built to Last. New York, NY: Harper Business.
Covey, S. M. (2009, February 9). "How the Best Leaders Build Trust," Society for Human Resource Management. Retrieved March 10, 2014 www.shrm.org
Covey, S. M. (2006). The Speed of Trust. New York, NY: Free Press.
Delivering Happiness.com. (n.d.). Delivering Happiness. Retrieved from www.deliveringhappiness.com.
Go Build Alabama.com (2014, September 03). Go Build Alabama. Retrieved September 3, 2014 from:http://gobuildalabama.com/join-the-fswa/
Greer, R. (2012). If You Know Who You Are, You Will Know What to Do: Living With Integrity. Nashville: Abingdon Press.
Media Partners Corporation. (1997). The Practical Coach. Seattle, WA: Media Partners Corporation.
Paragon Space Development Corporation. (2014, August 15). www.paragonsdc.com. Retrieved August 2015, 2014 from www.paragonsdc.com
Schein, E. H. (2010). Organizational Culture and Leadership, 4th Edition. San Francisco: Jossey-Bass.
Schuler, B. (2013, September 18). "Why Hiring For Fit is Baloney," www.inc.com. Retrieved July 29, 2014 from www.inc.com/barry-schuler/why-hiring-for-fit-is-baloney.html
Seijts, G., and Crim, D. (2006, March/April). "What Engages Employees the Most Or, The Ten C's Of Employee Engagement." Ivey Business Journal.
SHRM Foundation. (2012). Employee Engagement: Your Competitive Advantage. Alexandria, VA: SHRM Foundation.
Vance, P. R. (2006). Employee Engagement and Commitment. A Guide to Understanding, Measuring and Increasing Engagement in Your Organization. Alexandria, VA: SHRM Foundation.
Zandur, R. S., and Zandur, B. (2000). The Art of Possibility. New York, NY: Penguin Group.